Get started with your Raise
A step-by-step guide from the moment that you open the box to start typing on your computer
What's in the box
The Dygma Raise comes with a premium travel case and an enhancement kit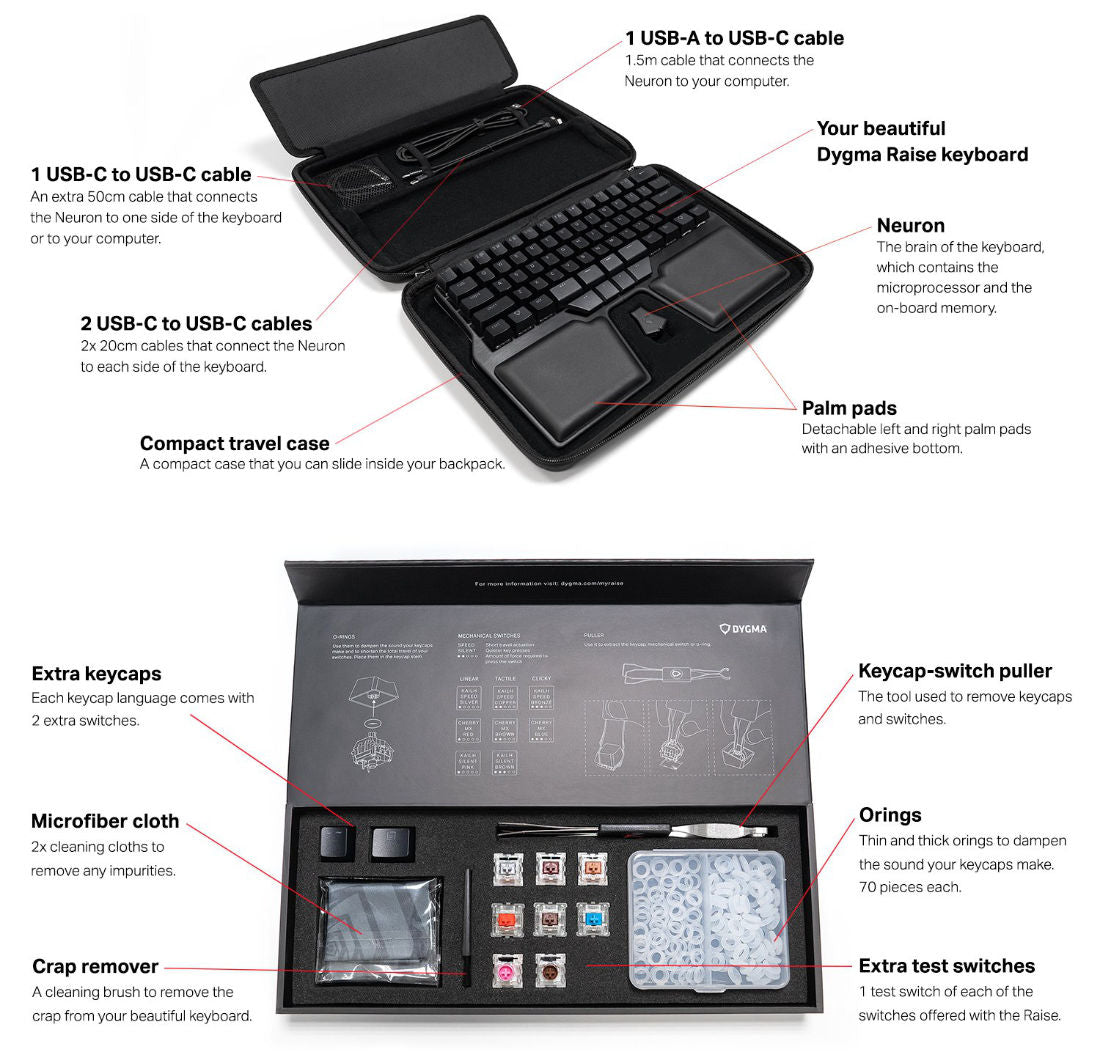 Connect the cables
1. Connect the USB C to USB C cables (1) from both halves of the Raise to the Neuron (2). You can use the longer cable (6) if you want to split you keyboard further apart.
2. Connect the Neuron to your computer with the USB C to USB A Cable (3). Make sure you connect the Raise directly to your computer, not through a USB hub.
Don't use the short Raise cables (1) with other products.

To split the keyboard, pull each side apart in the direction indicated by the arrows.

To properly place the palm pads (4) in the palm rests (5), first remove the plastic film underneath.
Learn how to use the pre-installed layers
The Raise comes with two layers: Layer #0 and Layer #1. These layers contain special functionalities that aren't printed on the keycaps.
Unlock the Hidden Superpowers of Your Keyboard
Dygma Raise Disassembly
Repair, modify or deep clean - the choice is yours.
The Dygma Raise is one of the easiest keyboards to disassemble, here's how;
How to install the tenting kit
The tenting kit is easily mounted on the Raise with the 10 screws provided (5 for each side)
Need help setting up your Raise?
Head over to our help center or contact us if you don't find a solution to your problem
Create
your Raise
Matte black or silver white
9 different mechanical switches
Compact travel case and enhancement kit
Free express worldwide shipping
2-year warranty
30-day return
"I love this keyboard. I wanted a more comfortable typing experience and I haven't been disappointed."

"It's truly a breath of fresh air for a tech product. Highly customizable, modular, and with an open-source software."

"I was skeptical at first, but this is endgame for me. I had no idea normal keyboards were hurting my shoulder."
Pimp your Raise
Regular price

Sale price

$89.00

$89.00

Unit price

per

Regular price

Sale price

$19.00

$19.00

Unit price

per