The Dygma Raise
ergonomic split keyboard
Bringing leading design, innovation, and ergonomics to improve your comfort and performance.
Introducing the Dygma Raise.
"It's truly a breath of fresh air for a tech product. Highly customizable, modular, and with an open-source software."

"Thanks for making this masterpiece! I own several mechanical keyboards, and this one is by far the best."

"I've had the keyboard for a year now. I couldn't imagine going back to traditional keyboard."
Improve your posture with an ergonomic design
If you ever feel pain in your back, wrists, arms or shoulders, it might be because of the way you place your hands on the keyboard, causing Ulnar Deviation.
The Dygma Raise split keyboard has an ergonomic design that lets your wrists rest aligned with your forearms, improving your overall position and reducing pain and discomfort.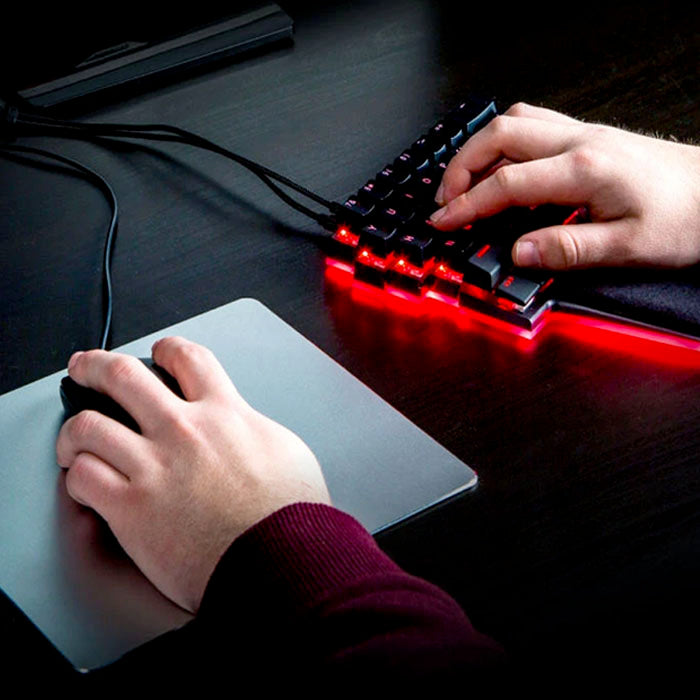 No more clutter.
One keyboard for all your needs
If you hate having one keyboard for work and another for gaming laying around, we feel you.
That's why The Dygma Raise can be used in one piece, split or even only one half. That way you can easily adapt your workstation to whatever your doing.
Get yours now
Work comfortably with wrist-saving palm pads
A lot of keyboard users suffer pain from wrist extension. That's when your hands are bent upwards because of the height of the keyboard.
The palm pads help keeping your wrists and your forearms aligned.
Plus, they are really comfy and you can detach and wash them as many times as you like. They will never loose their stickiness.
Do you want to be more productive?
Remap any key and create custom layers to speed up your workflow.
Use the 8 thumbkeys to relocate high-frequency keys.
Why use a split keyboard anyway?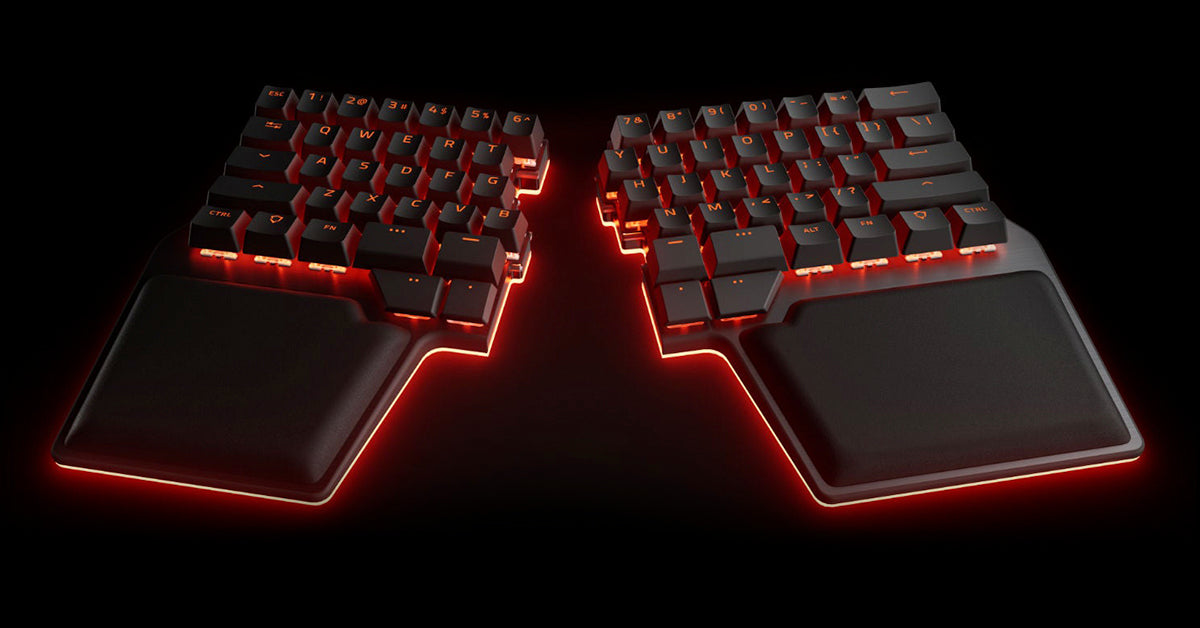 Dygma Raise
Free Express shipping. Get your Raise in 5 days!
What's in the box
1x Travel case

including
1x Dygma Raise Keyboard

1x Neuron

1x 150cm USB C to USB A cable

2x 20cm USB C to USB C cable

1x 50cm USB C to USB C cable

2x Palm pads
1x Enhancement Kit

including
1x Keycap and switch puller

70x Thin translucent O-rings

70x Thick translucent O-rings

1x Crap remover

2x Microfiber cloth

8x Test switches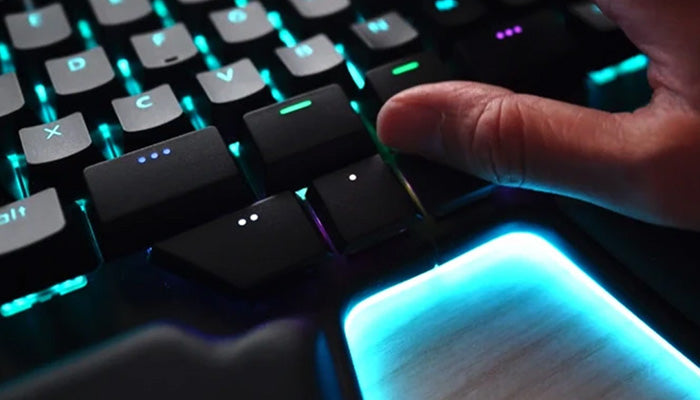 Utilize your strongest finger with an 8-key thumb cluster
Why use both thumbs just to press a huge spacebar? Your strongest fingers deserve more.
With its 8 thumbkeys the Dygma Raise can be set up to make the best use of your thumbs and unravel a world of possibilities.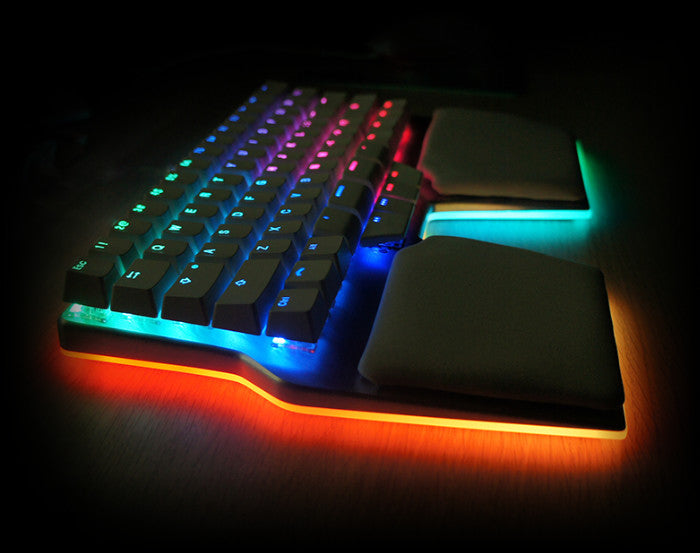 Easily navigate the keyboard thanks to the customizable RGB
Create custom color schemes to easily learn and remember your layouts. You can also use it to improve your touch typing technique .
The backlighting and the underglow of the Raise is fully customizable and can be set up in any color you can imagine.
Do you like to change your switches? We got you
Choosing the right switch can be overwhelming at first, but worry not: the Dygma Raise is hot-swappable, which means that you can easily change your switches whenever you feel like it.
But don't just listen to us.  Here's what our community say...
This thing absolutely SLAPS. It's going to take a while to really figure out how to set up my layers in the best way but this is a game-changer.

I can give you an answer regarding pain. I had carpal tunnel and ulnear syndrome, I almost have nothing left in 6 months because of the Dygma 😋 . So for the forearm it's great.

I really like my @DygmaLab keyboard. They have plenty of configuration options. If they don't have the switches you like they are replaceable with a simple tool. I installed Kailh box jades in mine.

I gotta say, the thumb cluster feels amazing! Coming from the Moonlander, it feels way better to use and less stretching of the thumb 😄

It's way more comfortable than expected and very stable despite me MASHING on the keyboard in intense RPG/FPS fights.

Seriously the raise is so fucking good. Cant believe i found my actual keyboard endgame. I have no idea how they could improve it.
…programming at light speed

If you are a coder, the Dygma Raise is a dream come true. It's fully-programmable with multiple layers, superkeys and macros, which makes programming faster than ever and repetitive tasks can be done in one keystroke.

…the ultimate gaming experience

Wrist extension and hand pronation has ended the careers of many gamers. The Raise is designed to offer a comfortable and fully customizable keyboard that can reduce pain and improve performance while gaming.

…the perfect design workstation

Whether you are a video editor, an illustrator, or a content creator, the Raise can improve your workstation. You can split the keyboard and place a notepad or a drawing tablet, and you can also customize your layout for each program you use.
Pimp your Raise
Regular price

Sale price

$89.00

$89.00

Unit price

per