Raise your game
The keyboard is an essential part of a gaming setup, but conventional keyboards weren't originally designed for gaming. It's time to level up with an ergonomic gaming keyboard developed from scratch to improve your performance and reduce injuries.
More space Better aim
The Dygma Raise is a gamepad and an ergonomic gaming keyboard all in one device; why have a full keyboard or a dedicadet gamepad when you can have both? Each side of the Raise is independent of the other, suiting both right and left-handed players. .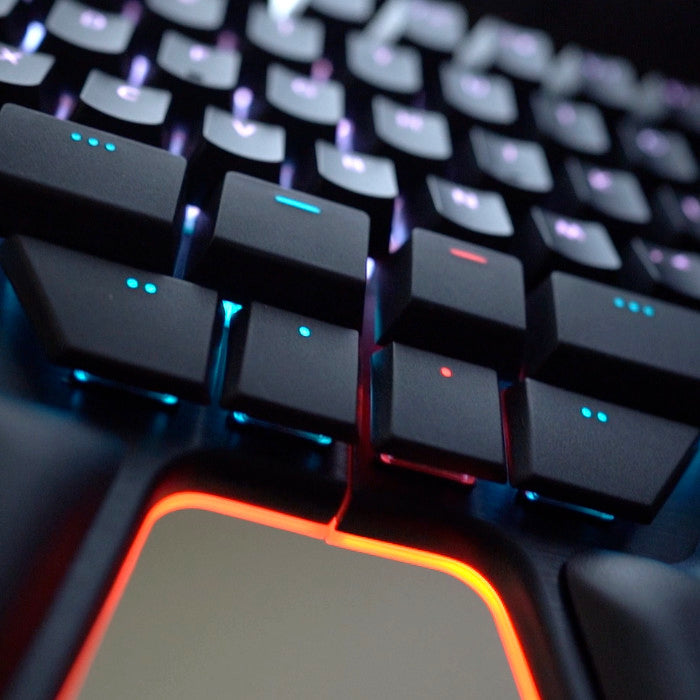 Use the thumb to your advantage
Why use your most dexterous finger to press just one huge spacebar.
With four thumbkeys on each half, you can place your most used keys and combos at the reach of your thumb and perform actions faster.
Get your Raise now and wreak havoc
The perfect layout for each game
While gaming, every millisecond counts. Create custom layers to move your most used actions closer to your fingers and outpace your opponents.
Here's a setup for League of Legends with all the keys you need in just one half of the ergonomic gaming keyboard.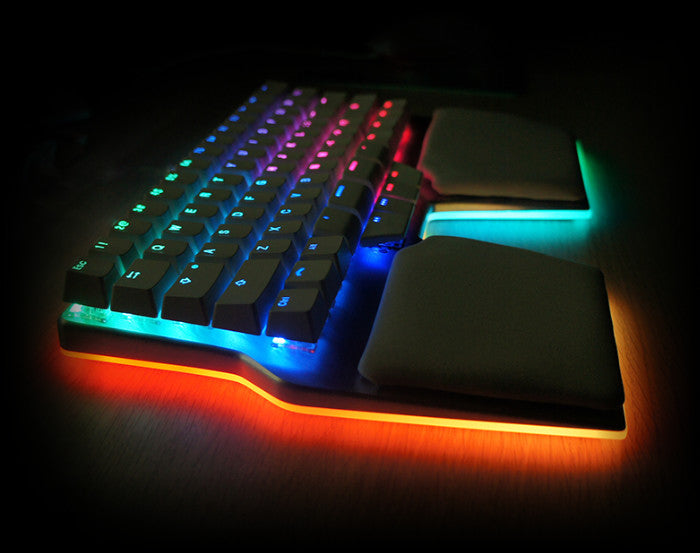 RGB for the win
Ergonomic keyboards don't have to be boring. Make your keyboard look cool and improve your gameplay by highlighting specific keys.
On the Dygma Raise, both the underglow and the backlight of each key are fully customizable.
The Dygma Raise is one of the coolest gaming keyboards that I have come across.

I love the split functionality for gaming, as well as the four keys you can hit with your thumb.

Brian Philips

BadSeed Tech
Designed by an esports coach
The founder of Dygma is Luis "Deilor" Sevilla 2x EU LCS Champion as Fnatic League of Legends Head Coach and currently an esports performance consultant.
In 2016, he realized that the keyboard's design has barely evolved in 30 years, and decided to create an ergonomic gaming keyboard that improved gaming performance while reducing pain and preventing injuries.
Read more about it
The benefits of an ergonomic gaming keyboard
From Console player to PC champion
Riccardo "Washout" Beccaria is a Professional PUBG Player for eSuba and Italy Team Captain, and uses the Dygma Raise to compete.
"Having more keys on the spacebar is a Tier 1 Benefit. It means more and faster actions. You have to get used to it for a while, but with muscle memory, you'll be able to be faster than ever."
Read the whole story
Create
your Raise
Matte black or silver white
9 different mechanical switches
Compact travel case and enhancement kit
Free express worldwide shipping
2-year warranty
30-day return
"I love this keyboard. I wanted a more comfortable typing experience and I haven't been dissapointed."

"It's truly a breath of fresh air for a tech product. Highly customizable, modular, and with an open-source software."

"I was skeptical at first, but this is endgame for me. I had no idea normal keyboards were hurting my shoulder."
Pimp your Raise
Regular price

Sale price

$89.00

$89.00

Unit price

per

Regular price

Sale price

$19.00

$19.00

Unit price

per